Small apartment design: the art of turning less into more
When it comes to decorating small apartments, design professionals face a real challenge. However, what at first might seem like a limitation, becomes for many interior designers and decorators the perfect opportunity to show off.
A large space offers infinite possibilities, but a small space is capable of making the artists who design it shine. It is these limitations that push designers to do their best, to let their imagination run wild, to turn less into more.
Every good interior architect has to turn that handicap into an opportunity to stand out and in this article, we discover some of the keys.
The distribution of space in small apartment design
How to make an apartment in a small space? The answer is simple: making the most of every centimeter.
Working with a clear idea in mind of how the rooms will be distributed is essential. This is an exercise in abstraction and the ability to visualize the overall potential of the apartment.
Among the different classic distribution models (closed, open or combined), the favorite, as long as space permits, is the open one. Open spaces provide spaciousness, brightness and increase the design possibilities.
In the design of small apartments, choosing to close only the rest areas and bathroom, applying an open distribution to the rest of the home, will be a success. The most inhabited areas of the house, such as the kitchen and living room, can be integrated in order to take advantage of every corner and become ultra-functional spaces.
We must not forget that in a small apartment to achieve a homogeneous environment will make us gain in amplitude. The decorative continuity will make us perceive the different rooms as a whole. Therefore, if you choose to separate areas or environments, it is better to do it with glass walls that let in light and allow us to appreciate this continuity.
Other options to separate rooms without breaking the harmony are:
Vertical slats
Carpets or floor changes
Sliding curtains
Use furniture to delimit the borders
Open bookcases
As for the furniture, transit areas should be avoided and everything should be placed perimetrically. In this way we will have free most of the room and the visual weight will be perfectly distributed.
Finally, small apartment design should have the projection of storage areas. These areas are functional, increase the order and manage to keep the environment clear in small homes. In the distribution of space, undoubtedly, one of the best investments, is the one made in relation to storage. When designing a small apartment, custom options can be ideal if you are looking for a good combination of aesthetics and functionality.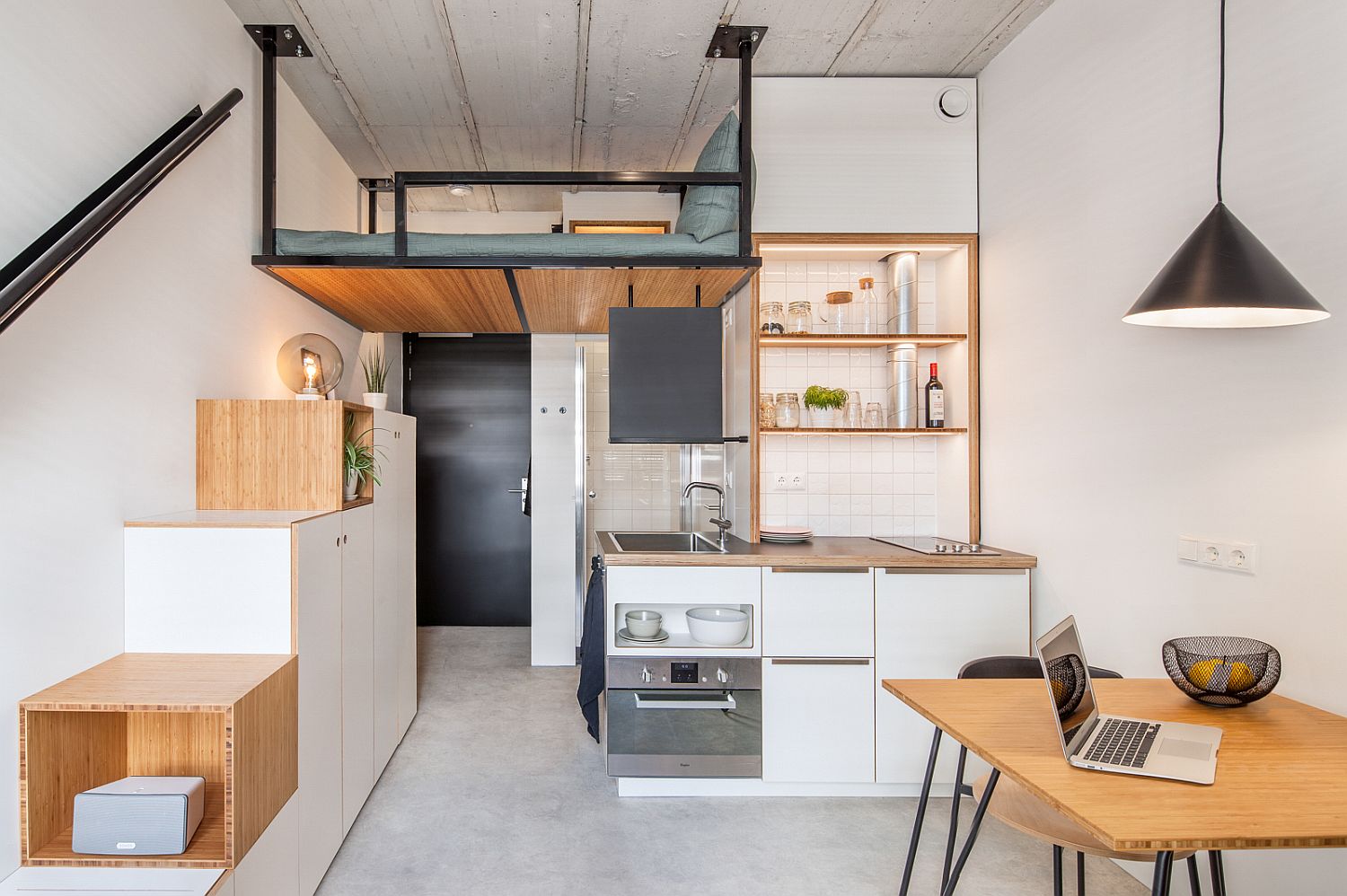 Small apartment design, big ideas
How to decorate a small apartment
Order, cleanliness and simplicity will be the keys to a successful design. The use of straight line furniture, neutral colors, uncluttered walls, all of them help us to create cozy spaces and increase the feeling of spaciousness.
Avoiding prints, avoiding excess decorative elements and leaving aside warm colors will help to create more peaceful spaces. Pastel tones, whites, pearly grays are the standard bearers in mini spaces.
For walls and floors, it is better to go for light, neutral and low contrast tones. The idea is to ensure continuity, making floor and walls merge, creating enveloping environments. If we avoid contrasts we avoid the focus on the size of the rooms.
Essential in the design of small apartments
Magical mirrors
Mirrors will never go out of style, whether vintage, oval or geometric, including mirrors will increase the feeling of space and help with brightness.
Doors and windows
Sometimes they have a starring role and sometimes they should go unnoticed. Unadorned, light-colored lacquered doors are a safe bet. Sliding doors save space and add sophistication.
For the more daring, large windows without curtains make the most of natural light, but if you are not convinced by this option, you can always choose a sheer or light curtain.
Convertible furniture, minimum space maximum functionality
To reduced spaces, convertible furniture, savings will be our mantra in the design of small apartments.
Office kitchen to break down borders
Office kitchens allow to integrate spaces and most importantly, they integrate those who live in them.
Sky is the Limit: think big
It takes big ideas to design small apartments. We have seen that mini spaces need to adapt to certain parameters that guarantee a good result. However, creativity does not understand limitations and leaves us wonders like these.
Follow @design_interior_homes and discover more small apartment designs.