Most famous designer chairs: Iconic chair designs of all times
Famous Chairs of Industrial Design Review
Today we talk about some of the most famous designer chairs in history. Iconic chairs or famous chairs are those that for its design, originality or functionality have managed to transcend in history. They have become models that people still claim today.
Many interior designers include these iconic chair models when they have to decorate a room. That is because, betting on them is a guaranteed success. They are timeless and bring a special touch to any space.
Unwittingly, these famous chairs are engraved in our minds, they bring back memories, they evoke feelings. Finding an iconic chair when you enter a room is like meeting an old acquaintance and feeling instantly embraced.
We have seen them in movies, on television, in specialized magazines. And we have also seen them permeate our culture and become part of us. That's why today we review some iconic chair models and learn more about them.
Do you know some of the most famous designer chairs in history?, Let's check it out!
Why is the Eames chair iconic? : Eames Chair
In 1950 the Eames Chair, also known as the Plastic Chair, was awarded second prize in the seating category during the Low-Cost Furniture Design competition, organized by Nelson A. Rockefeller, at the MoMA in New York.
The first version of the Plastic Chair designed by husband and wife team Ray and Charles Eames, in collaboration with Zenith Plastics, was called Fiberglass.
The Fiberglass was the first plastic chair to be produced industrially. But its production was soon affected by the environmental risk posed by the fiberglass it was made of.
It was not until 2004 when, with the introduction of a new material, 100% recyclable polypropylene, the Eames chair reached its peak. Polypropylene has a soft touch, matte finish and is a very hygienic and resistant material.
The Importance of the Base in Eames Chairs
On the other hand, if there is one iconic thing that the Eames chair has received recognition for, it is the versatility of its base.
Originally the base of the Eames chair was made of maple wood with tubular steel sleepers. This made it look fantastic both at home and in the office. In addition to maintaining a much lower price than other chairs on the market.
Currently, the Eames chair has evolved to become a reference that has many versions: with arms, with metal legs model EIFFEL, DSX with tubular metal legs…
Moreover, the Eames model has had a logical evolution giving rise to customizations. The shell Chair with colors, upholstery and shapes it's a perfect example.
Nowadays, with the boom of the Nordic style, this chair has become a must-have that is affordable for any budget.
Why is the Barcelona chair iconic?: Barcelona Chair
The Barcelona Chair is without any doubt one of the most famous designer chairs.
Lilly Reich and her partner Ludwig Van der Rohe are responsible for this iconic chair model. Lilly Reich was one of the few female Bauhaus professors and Van der Rohe (along with others such as Lloyd Wright and Le Corbusier) is considered one of the fathers of modern architecture.
This chair, born in post-war times and exhibited for the first time at the 1929 Barcelona International Exposition, stood out for its harmony of form.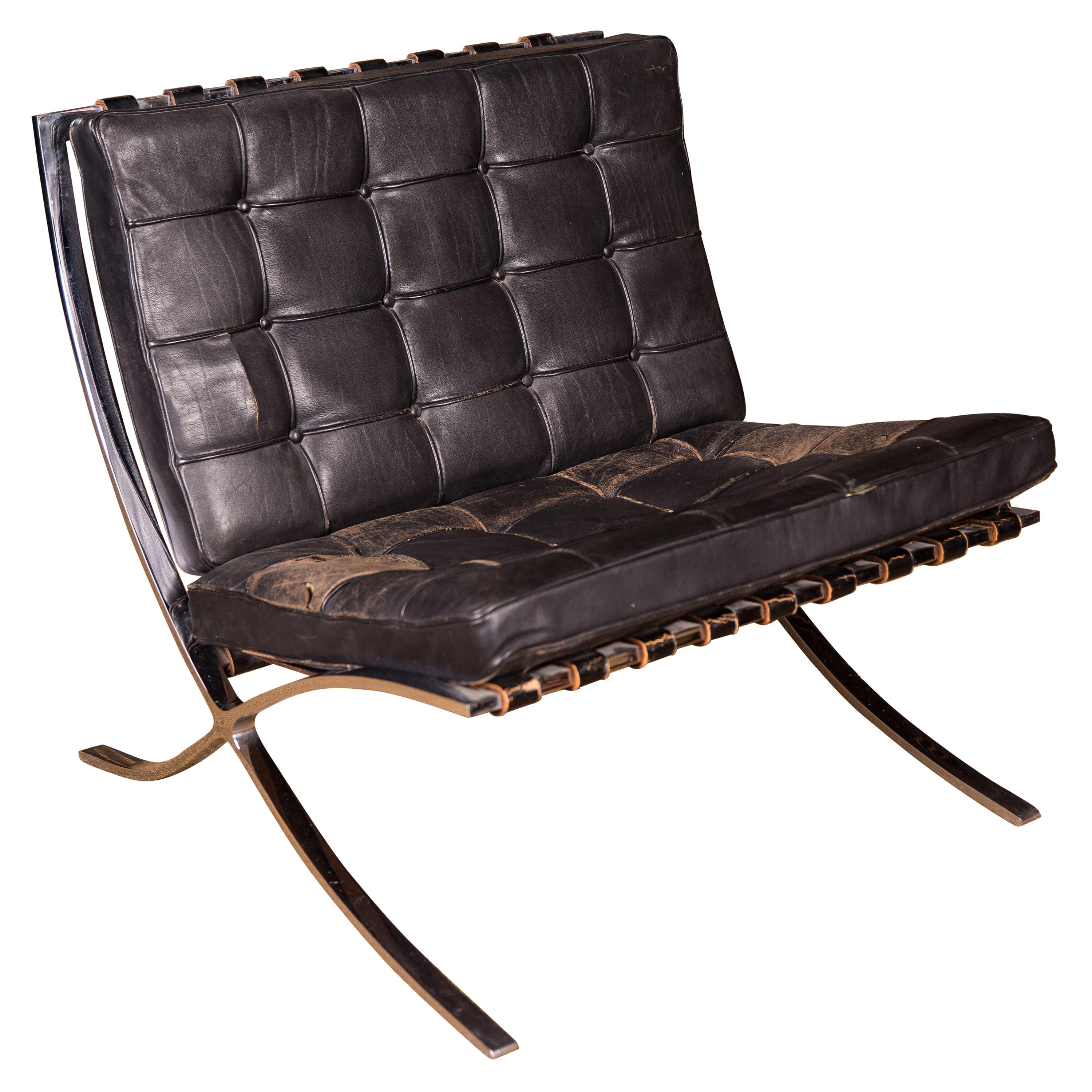 The first model had a stainless steel structure and both the seat and backrest were made of leather. The Barcelona chair is characterized by its exposed structural joints, giving it a modern and elegant look. It is undoubtedly a functional and exquisite piece.
Nowadays, imitations are manufactured industrially, substituting leather for more affordable materials. However, it is Knoll who holds the original license purchased from Mies in 1953. For this reason, only Knoll manufactures the authentic Barcelona chairs, with top quality materials and in leather of different colors.
The Barcelona chair, as a curious fact, appears in the movie American Psycho, starring Christian Bale. In this neat and elegant apartment they look perfect, don't you think?
BKF Chair or Butterfly Chair
A symbol of Argentine design in the world, the BKF chair. This chair is named after the initials of the surnames of its creators: Antonio Bonet, Juan Kurchan and Jorge Ferrari.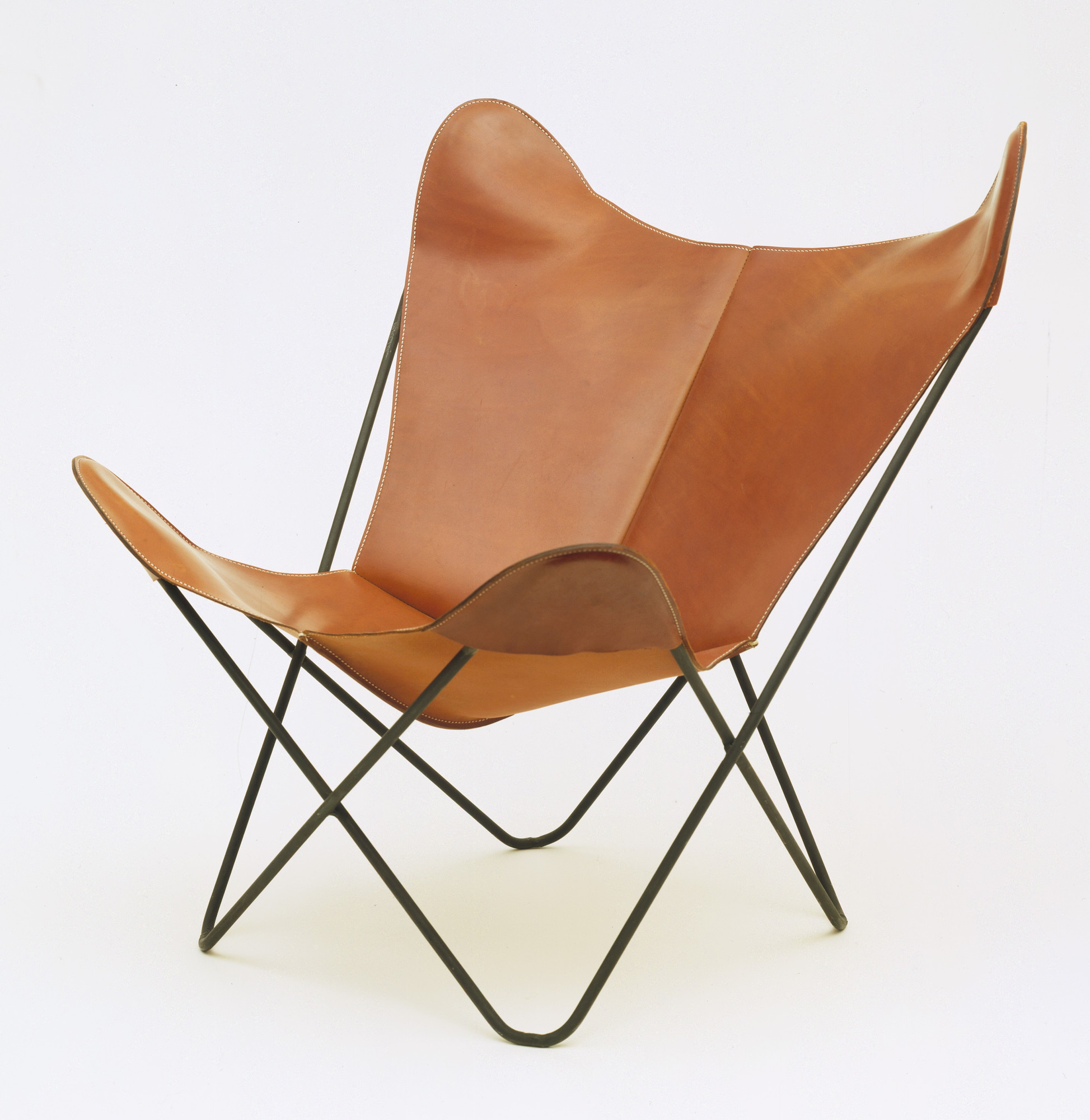 It was presented at the third Salón de Artistas Decoradores de Buenos Aires in 1940. The original model was made of steel and leather.
Bonet, Kurchan and Ferrari studied at Le Corbusier's studio in Paris. They also were the founders of Grupo Austral, a collective of architects, artists and intellectuals.
What is special about the BKF chair?
Its metal structure is undoubtedly the most peculiar part of this chair.
Made of solid round iron, its joints are made by mechanical bending, but are finished off manually so that they are perfect.
This structure is crowned by a single piece of leather that makes it an ultra-comfortable chair.
The most remarkable thing about the butterfly chair is that in addition to having this original structure, sitting on it is like lying in a hammock.
Its shape makes your body weight is distributed and adapts, inviting you to rest peacefully.
It is for this reason that the BKF has been extremely copied over the years, using a wide range of materials.
A very interesting predecessor: The Italian Tripolina
A folding field seat used by the English army in the 19th century, made of wood and canvas could be the closest ancestor of the BKF. Although the creators of the butterfly chair were not aware of the existence of the tripolina, the resemblance is more than reasonable.
Today there are numerous companies specialized in the manufacture of this model of chair, especially in Argentina where the BKF has specific projects focused on innovation applied to this model.
Panton Chair: Icon of the 20th Century
Created by Verner Panton in 1960, the Panton chair went into mass production in 1967 in collaboration with Vitra.
Made from a single piece of ergonomic, comfortable and eye-catching plastic, this chair model reached its peak in 1999. It was then that it could be manufactured according to its original conception: ultra-resistant plastic and matte colors with a glossy finish.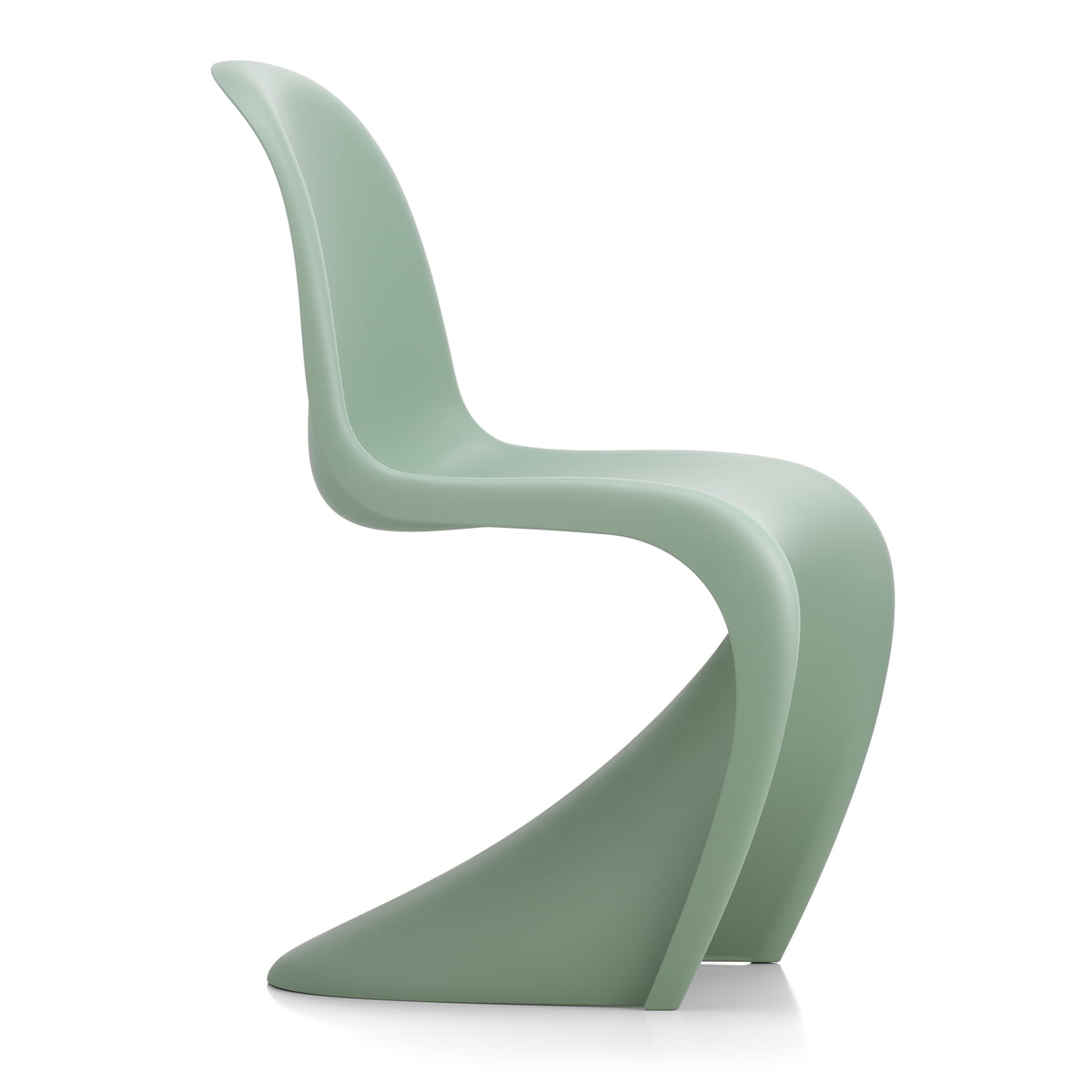 The versatility of the Panton chair allows it to be used both indoors and outdoors, and its flexible material and anthropomorphic seating make sitting on it an experience.
Wassily Chair: A bicycle, Kandinsky and the Bauhaus
The creator of the Wassily chair, Marcel Breuer, stood out for his work as an architect and designer and is also known for being one of the protégés of Bauhaus founder Walter Gropius.
The Wassily chair owes its name to the painter Kandinsky, who happened to see this chair model in Breuer's studio and felt a great interest in it. According to Breuer, in less than a year he had already furnished the entire Bauhaus with his models, so how could he not thank him by naming a chair after him.
Marcel Breuer was inspired by bicycles and their bent-iron forms to create this model. For him, bicycles were models of perfect design that had hardly needed to evolve to adapt to the times.
With this idea in mind, based on the transparency of the form and reducing the classic armchairs to their minimum expression, Marcel created the first Wassily in 1925.
Most famous designer chairs: The Ball Chair
Who hasn't seen a Ball chair in a movie or on TV? It is a classic of modern design (closely associated with Pop culture), with which we can all feel identified regardless of our year of birth.
The designer of this jewel is the Finnish Eero Aarnio, who stood out for his production of plastic and fiberglass furniture during the 60s. The famous Bubble Chair, a transparent bubble-shaped seat designed to be hung from the ceiling, also bears his signature.
The Ball Chair was designed in 1963 and presented at the Cologne Furniture Fair in 1966.
After its success, it appeared on numerous covers, was placed in design museums and became a benchmark of industrial design.
This model is an example of perseverance, because although at first its futuristic design did not seem to fit anywhere, finally Aarnio's effort and confidence in his design were rewarded.
If you want to know more you can read the full story of this chair here.
The Bertoia Chair: One of Harry Bertoia's Thousand Wonders
Harry Bertoia was a brilliant and talented artist, one of those artists who had a natural gift for making everything they did exceptional.
Bertoia was a metal worker, but his contribution to the design and especially to the production process of the Eames chairs was very important. In fact, Bertoia moved to California to help Eames, who had previously been a student of his, with the method for bending and laminating plywood. Thus, the Low chair Wood would not have been possible without Bertoia's input.
Nevertheless, Harry had his own outstanding contribution to the world of furniture. Under the Knoll founders Hans and Florence, Harry had the opportunity and freedom to create and experiment as he pleased.
Eventually, despite not having received any concrete commissions to create furniture, Harry presented himself to them with an entire collection of wire furniture. The result: an iconic collection presented in 1952 that is still considered one of the great achievements in 20th century furniture production.
That collection included such iconic chairs as the Bertoia Chair and the Diamond Chair.
Wiggle chair: Cardboard turned into luxury
Another of the most famous designer chairs is the Wiggle Chair.
Frank Gehry's Easy Edges series (1972) left no one indifferent. This Canadian architect adapted such an everyday and organic material as cardboard and used it to create true works of art.
With his vision as an architect, he achieved these functional, robust and also super comfortable designs that aesthetically do not go unnoticed. Honestly, we don't think they are for everyone, but his idea is revolutionary.
The Red and Blue Chair: That wasn't always red and blue
Gerrit Rietveld carpenter, designer and architect, designed the Red and Blue Chair in the summer of 1918. What few know is that, originally, the chair was a natural wood color. It was later painted in the colors black, gray and white, but it wasn't until Rietveld's entry into the De Stijl movement that the chair acquired its iconic appearance.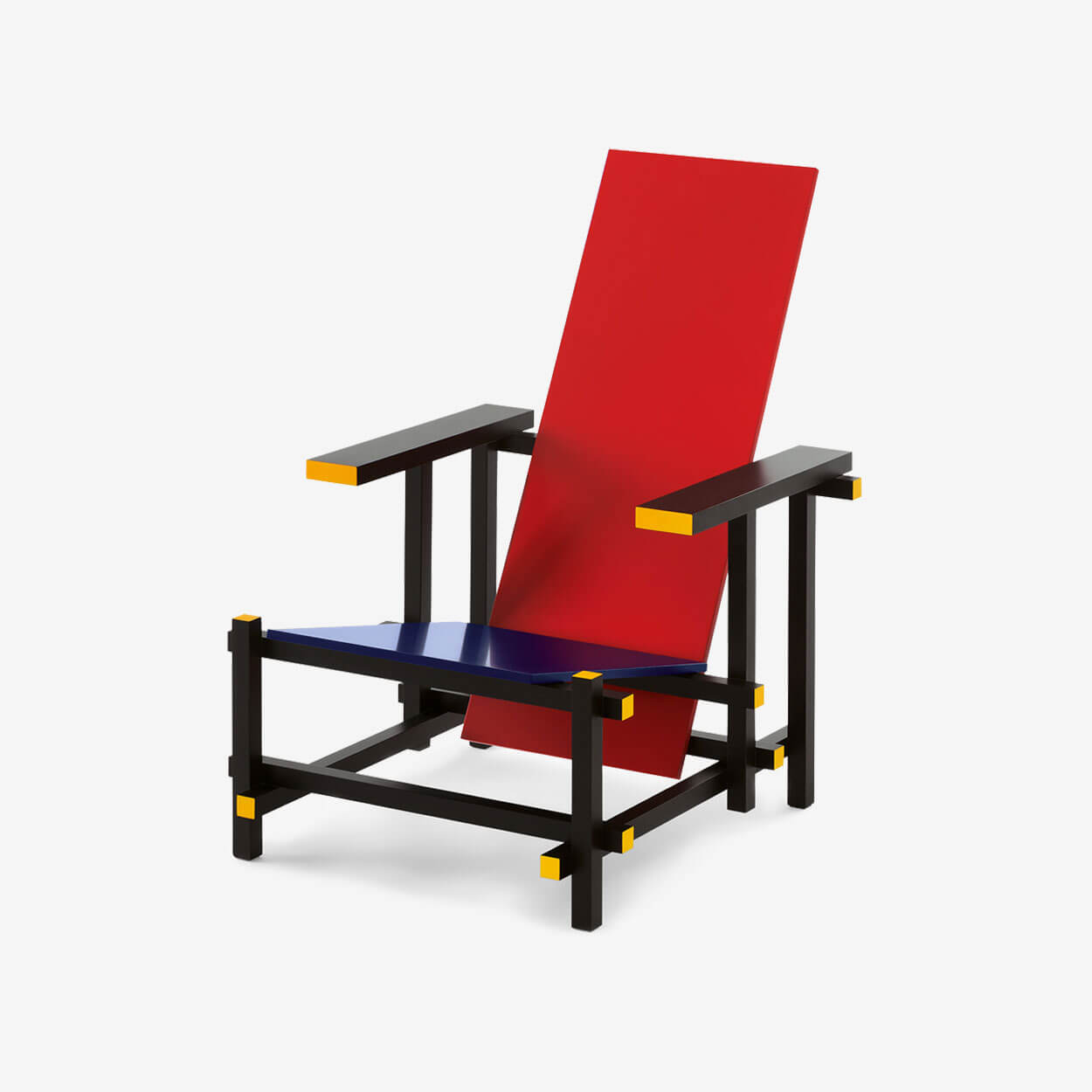 Its simple conception was intended for mass production, however, this chair is a clear example that in design: less is more. This piece is currently on display at the Museum of Modern Art in New York (MoMA) and is world famous.
Tolix Chair: A Classic in Parisian Bistros
Young visionary Xavier Pauchard founded his own metal outdoor furniture company in an area famous for its timber production.
Although it may seem an adventurous decision in his area, Pauchard had family experience in zinc processing. His knowledge allowed him to experiment with galvanizing and create very resistant metal furniture, which remained perfect even outdoors. 
Xavier worked hand in hand with Parisian hoteliers and restaurateurs to meet their demands and needs.
He created different models of the Tolix Chair, which originally had 3 holes in the seat to evacuate rainwater. He turned it into a light, handy and easily stackable chair, which allowed it to gain popularity.
Initially called the A-chair, it is today one of the best-selling chair models in the world and a benchmark in the world of decoration and interior design.
Be inspired by our community
We hope you enjoyed learning more about the most famous designer chairs in industrial design.
If you want more interior design inspiration, visit @design_interior_homes here you will find examples of how to apply these and other furniture designs to your rooms.