Ephemeral architecture, the beauty of transience
Ephemeral architecture is the perfect antagonist to conventional architecture. Designed to perish, this type of architecture fulfills a multitude of interesting functions, let's discover some of them….
Architecture designed to disappear…
When we speak of something ephemeral we mean something that does not last for long.The term ephemeral could be defined as that which is fleeting or of short duration, which has little life and disappears after a short time.
This term has been used for decades to talk about what we have at any given moment, but, which at any other moment will disappear, a clear example being life itself.
You are probably wondering how architecture can be ephemeral. And the fact is that, of the fine arts, architecture is the one we associate the least with transience, since it involves more technique and study than any other.
Moreover, its main objective is to design and construct buildings that are functional and satisfy the spatial needs of human beings.
Therefore, talking about ephemeral architecture may seem somewhat contradictory, since these are apparently opposite terms, but in reality it is more present in construction than we think.
What is ephemeral architecture
The ephemeral architecture is the one that responds to the needs of a specific moment, without the need to remain in time. It is the one that is designed and built temporarily.
This temporality allows projects to have more freedom in design, having the ability to alter the space that surrounds them in a timely manner.
At present, the ephemeral architecture is booming and is something that tends to be used more and more when some kind of event is held, where once the celebration is over, it is dismantled leaving the place in its original state.
An example of ephemeral architectureis the London 2012 Olympic Games, where several of the facilities were built exclusively for those weeks of competition. Once the event was over, they were disassembled.
It is also common to see ephemeral architecture at exhibitions, art galleries, shopping malls and even on the street.
However, ephemeral architecture dates back to the Ancient Ages when Greek and Egyptian cultures built temporary buildings for their political and religious ceremonies.
The advantage of this type of architecture is that architects and designers alike can experiment, trying out avant-garde things, since these works and designs do not last forever.
Features of ephemeral architecture
In ephemeral architecture several characteristics stand out, which we are going to list below:
Temporal
As the name implies it has an expiration date. Its function is to respond to specific needs and / or events that require temporary buildings for their celebration, but, once fulfilled the spaces return to their initial state.
Economic
Ephemeral architecture has a low design and manufacturing cost. In addition, it makes the most of the resources of the environment to suit the needs of each place and to be able to optimize both the investment and the available materials.
Flexible
It is simple to assemble and disassemble and adapts easily to the requirements of the space and the moment. Which means that it can be remodeled continuously, depending on the needs of each moment.
Innovative
They are built using novel techniques and materials that are out of the ordinary. They are often a starting point for new technologies that are then used in traditional architecture.
What materials are used in ephemeral architecture
The materials used for ephemeral architecture are usually not very resistant and do not last very long. The main criteria of choice are usually aesthetics, availability and integration in the environment.
With this in mind, alternatives such as stainless steel, iron, vinyl, acrylic, fabrics, polycarbonate, synthetics, etc.
That is why in ephemeral architecture they go in tune with respectful and sustainable constructions making use of rPET (recycled plastic) plastics, woods, corks, and even waste elements.
Examples of ephemeral architecture
There are many examples of ephemeral architecture in the world that have become iconic, either because of their historical importance, the initial purpose they served, or the visual impact they imply.
Therefore, we take the opportunity to name some of the most emblematic ephemeral architectures of our planet.
Eiffel Tower, Paris
You may be surprised to see the Eiffel Tower as an example of ephemeral architecture, but France's most famous building was erected with the idea of being demolished after 20 years.
However, Gustave Eiffel succeeded in getting this impressive building, built for the 1887 Paris Exposition Universelle, "pardoned."
He argued that the tower could serve as a scientific use given its height and design for physics experiments, astronomical and meteorological observations, and as a communications post, among other purposes.
Thanks to this, it is now the most emblematic monument in France and in all of Europe.
Serpentine Pavilion, London
This gallery exhibits year after year since 2000 a display of ephemeral architecture in its Kensington gardens, as it functions as a pavilion to host cultural events, debates, and exhibitions of all kinds.
It begins during the summer and is maintained until late fall, when it is dismantled in anticipation of the next project.
Each year the organization commissions the construction to an architect or designer of international renown.
Huoshenshan Hospital, Wuhan
Without going any further we have a clear example of emergency ephemeral architecturein the Huoshenshan Hospital in Wuhan.
The Covid-19 pandemic prompted the need in the city of Wuhan to build this so-called "Chinese miracle" hospital in just ten days. It is about 60,000 square meters spread over two floors made of prefabricated structures.
It has a capacity for more than 1,000 beds, and has a ventilation system that limits contact with the outside. Although it has not been demolished for the time being, its construction was not intended to last.
At the moment it remains closed, as months after its inauguration, all patients were discharged.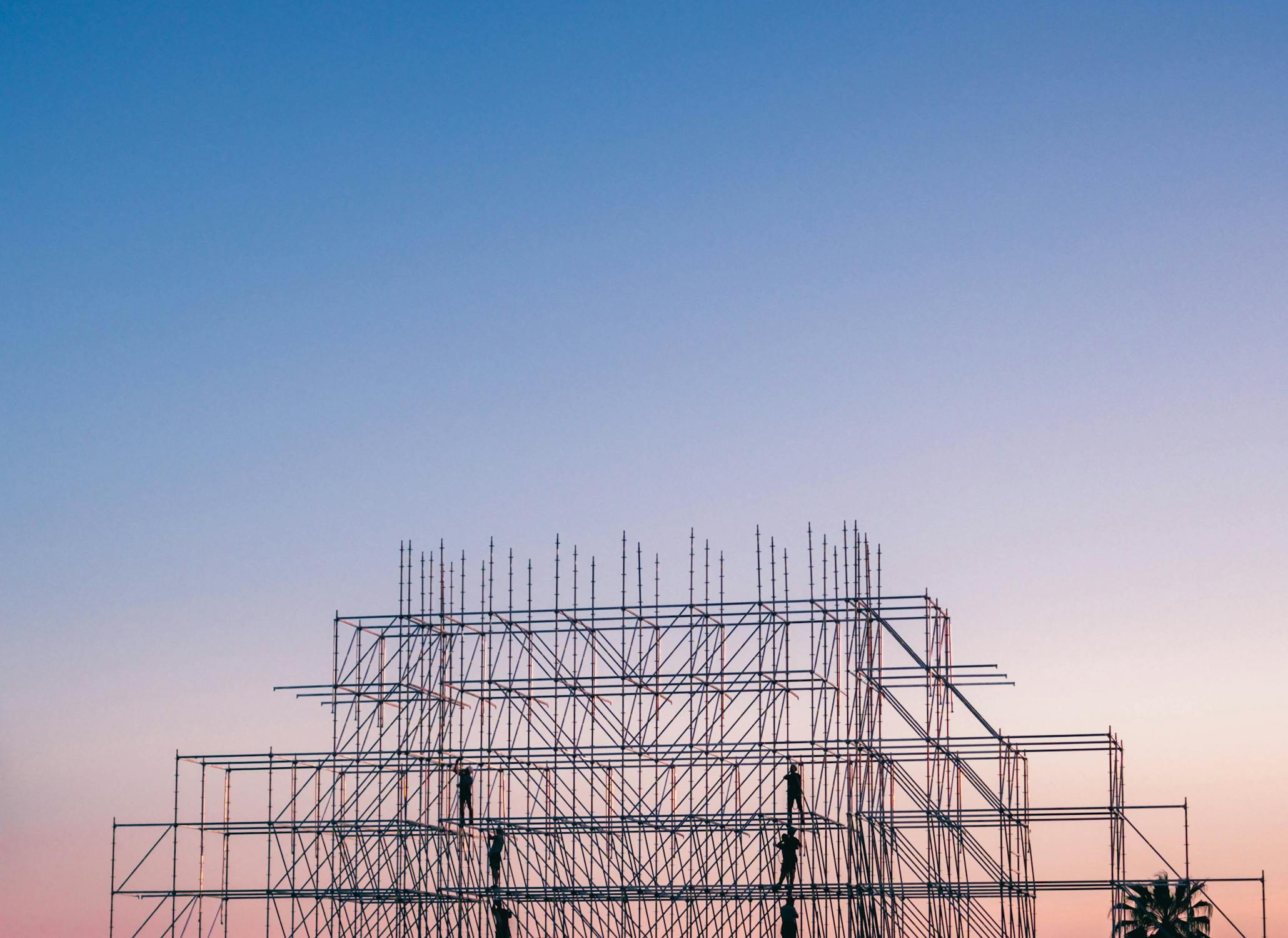 In conclusion, we could say that ephemeral architecture is capable of providing a timely solution to situations where traditional architecture is not an option. But in addition, ephemeral architecture offers the most creative and innovative architects the perfect opportunity to create without economic or temporal limitations. Ephemeral architecture is therefore versatility and creativity in its purest form.
Discover more about architecture at @_archidesignhome_
Foto de Scott Webb en Pexels