Charming reading spot: the best ideas for your home
It is very usual to think that the sofa or the bed are the most ideal places to read, but we are wrong. Creating our own charming reading spot will bring us much more tranquility and concentration, and we will be surrounded by a much more comfortable place for those necessary moments in our day to day.
To make this refuge a reality in your home you don't need much, so let's start by giving you some great ideas to create your reading corner. Shall we?
How to create a charming reading spot?
First of all, let's look at the three fundamental keys to create your reading corner at home: color, furniture and lighting.
To create a charming reading spot, the color of the room we choose to immerse ourselves in our bestsellers is very important, therefore, it is ideal to opt for light colors and smooth walls (better without wallpaper). Both tips will provide much more light and visual comfort, something super necessary for reading, don't you think?
As for the furniture, choose to include bookshelves or a small table made of natural wood, as it will bring much more warmth to the room. And as a general tip to decorate your reading corner: less is more. Therefore, do not overload it excessively.
Finally, it is important that you have as much natural light as possible, so we recommend placing the space near a balcony or window.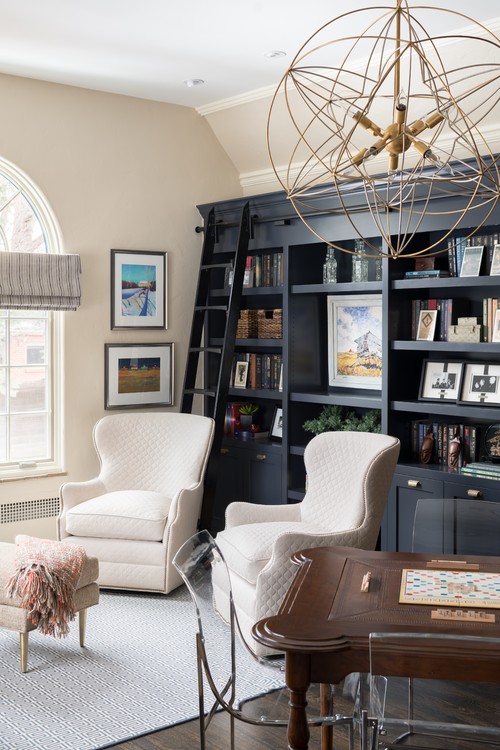 1. Choosing the perfect reading spot at home
Once we have clarified the 3 fundamental keys for any reading corner, it is time to choose the location of our new favorite place in the house.
Your reading corner should be that place where you can disconnect from the noise, the hustle and bustle, the cell phone… in short, from everything! It's time to dive into that adventure book, that fiction novel or that drama that has us so glued to every line our favorite author has written.
Surely there is an unused corner in your home that you can give a new life to. It doesn't matter where it is located as long as you have good natural light. In fact, if you place your reading spot at home near a window it will be great, but you can also use a good artificial light. This way, when the sun goes down, you will have the right lighting and you will still be able to enjoy that wonderful book.
It is also important that it is not located at the entrance of the house, as this place is always busy and you will not be able to disconnect as you deserve after a long day at the office.
And remember that to achieve a charming reading corner you need a large dose of good inspiration, and although we will give you some ideas, the final touch will be yours!
2. Give a personal style to your reading spot
Now it's time for everyone to add the touch that best suits their personality.
If you are a fan of Nordic style, make white colors and natural materials reign in your corner. If, on the other hand, you are more classic, opt for a more traditional, elegant and warm decoration. If your style is more bohemian, your charming reading corner will convey freedom, wanderlust and lots of color. But whatever your style is, make sure you create an atmosphere full of personality.
And if you have children at home, you can not rule out creating a reading corner more familiar and why not, childish. We are sure that you will live very special moments, because it will be the room of the house where creativity will reign.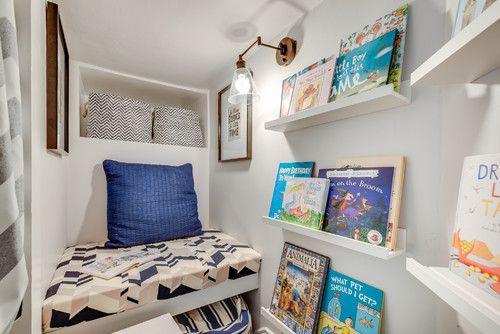 And if you need more ideas, don't worry, at the end of the article we will see other styles that surely fit your identity. Plus, they'll give you plenty of ideas so you'll know how to create that perfect comfy reading nook.
3. What's essential in a reading corner
What do you might need? Better armchair or chaise longue? Natural or artificial light? You will have many doubts when creating your new reading space and we want to help you make the best decisions. Therefore, here is a list of furniture that you will need to start decorating your reading spot:
The first thing is to choose the best seat for you: from a comfortable armchair to spend hours and hours in front of your favorite book to a stylish Chaise Longue. And if you have an adventurous spirit, a mat on the floor is ideal for you.
Cushions are a clear "Yes I do!" because not only you will be much more comfortable, they will also give a super trendy touch to your corner. As well as having a plaid nearby, another essential for those rainy days.
If you need artificial light, we recommend a cold light of about 4,000K – 5,000K as it is the most appropriate for interiors. This type of light (bulb) should be placed in a floor lamp or flexo.
If you are a neat freak, opt for linear and minimalist shelves, but if you're more of a free-flowing person, in a vintage store you will discover great furniture to give a plus to that little reading corner.
And last but not least: your book collection.
The best charming reading sports on Instagram
If you still haven't made up your mind with all the tips we've marked, here you can find some examples of the best charming reading corners on Instagram. It's time to get inspired!
This reading corner is perfect for every bohemian style lover, simple but full of charm, right? Choose a comfortable seat that you can place in a corner of your house. Add some wicker deco and a table where you can leave your book, and don't forget to add a touch of green with a natural indoor plant.
This reading nook follows a more classic style and the shelves are its main feature. It is a mini library at your fingertips that can also be placed in a room or in the living room, it will be the perfect corner of your home!
If you choose this idea and place the corner next to a window you will have natural light to read almost all the time. In addition, having the opportunity to create your own library like the one in this image, will make this reading spot the most desired place in your home.
This option is perfect especially in summer or spring days, since we take the reading corner to the outside. It doesn't matter if you have a garden, a terrace or a small balcony. It's all about finding that ideal spot for our charming reading corner at home. You will be able to create a reading corner as beautiful as the one in this picture. You will have plenty of natural light, as well as relaxation, peace and total disconnection. What are you waiting for?
And finally, if you are looking for more deco inspiration, in our magazine you will always find many ideas to decorate your home, so do not miss any of our articles, with many ideas and tips. We are waiting for you!