Best Interior Design Software: Top 5 Interior Design Programs
Best interior design software is hard to find, because there are many of it but not all of them have the necessary functionalities.
Historically, interior designers have been forced to use different programs in their daily work. This is because, in most cases, software that is efficient for one particular functionality is lacking in some other. For example, AutoCAD might be ideal for 2D drawings, but what if we need the same in 3D?…
From this need of professionals, to have tools that integrate all phases of their creative process, the proposals of the great Adobe or Autodesk are born.
These software giants seek to provide professionals with suites that have everything they need to develop their projects.
However, we cannot forget those best interior design software, which despite needing to rely on others, have earned a small niche on the desks of many professionals.
And so it is that we now find ourselves immersed in a reality in which the big players battle for a global offer, while other smaller tools resist on the strength of their specialization and efficiency.
Now that 3D is here to stay and the pandemic has accelerated the pace of digitalization, let's review which programs are most used by interior designers.
Top 5 best interior design software
Next, we are going to see which are the best interior design programs, or at least, which ones we consider super useful for the daily work of any professional interior designer. Here we go…
1. AutoCAD
Autocad is probably one of the oldest design programs used by architects and interior designers. This software has been for many, the undisputed king in the creation of 2D plans.
It is a professional software, with a multitude of possibilities. Although at first, it is difficult to become familiar with its use and the multitude of tools available, practice makes perfect.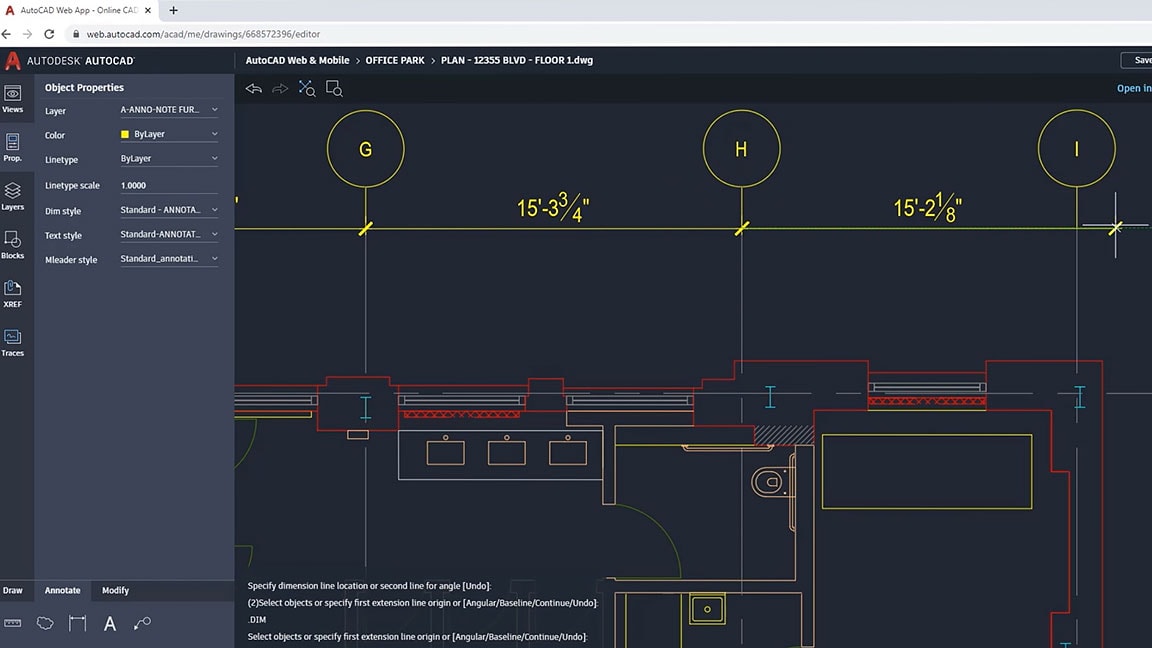 Although AutoCAD also offers 3D modeling in its premium version, its most popular version remains LT. Professionals choose the most affordable version of the program because it gives them full access to the essentials: drawings.
2. SketchUp
For many interior architects Sketchup is a favorite. This 3D modeling program, while difficult to master, offers versatility and speed when it comes to working.
It has a 30-day free trial version and also with very interesting discounts for students.
However, if you are on a budget we recommend Sketchup Pro. This version includes access to Trimble Connect, a cloud where you can work on shared versions with colleagues in real time. This way, projects are always in safe hands and progress in leaps and bounds.
3. Revit
Let's talk now about one of the Trojan horses of the Autodesk giant.
Revit is much more than an interior design program, it is a software for comprehensive management of architectural projects.
With Revit you model in 3D while the program automates essential functions, so you can focus on what's really important.
The program works with the collaborative methodology BIM (Building Information Modeling). This model consists of the synergic participation of all those involved in the project: architects, engineers, builders…from start to finish. All parties work on the same project in real time. In addition, Revit generates all the necessary documentation of the project: plans, renderings, 3Ds views in a simple way, to make it available to any of the participants.
As you can imagine, this means a world of possibilities at the reach of your mouse…
4. Adobe Dimension
Adobe Dimension allows you to design in 2D and 3D as intuitively as only Adobe knows how
As its claim suggests, Dimension allows you to create real-world images in real time.
To get an understanding of the potential of this tool, we recommend this article from Adobe's own blog
Adobe's true potential lies in the combined use of the entire suite. In our opinion Creative Cloud is the design toolset that every professional interior designer should have. If you read on, you'll find out why…
5. Adobe Substance 3D Collection
3D has come to Adobe and it's here to stay…
The new Substance collection of tools is a statement of intent on how the brand wants to position itself in an increasingly accelerated market. It is based on the Substance software acquired by the brand years ago and widely used in game development.
Adobe Stager, Adobe Sampler, Adobe Designer, Adobe Assets Library and the beta Modeler make up this powerful new suite.
Stager allows you to create 3D scenes with lighting and camera to capture digital snapshots. With Adobe sampler, we can use photos of real materials as a starting point to create digital materials, while in Assets Library, we will find thousands of 3D materials, models and lights to apply in our projects.
Just by looking at the Stager interface and some models made in Substance, we've had a crush…And you?
We hope you can get the most out of our recommendations and that these tools will help you on a prosperous career path.
Continue to be inspired…
Discover extraordinary interior interior designs for interiors on Instagram, the favorite meeting point for design professionals.
Get inspired, share, and let your imagination run wild…