Architectural rendering: Best Techniques, Software & Styles
Rendering in architecture discover all about this technique
What is architectural rendering?
Architectural rendering is the technique that allows a graphic representation of an architectural project. It consists of the creation of images 2D or 3D, which offer a realistic approximation of what will be the final result of a project once executed.
The render allows to visualize a project within the environment, a room, details about the lighting…
An architectural project requires a large amount of resources for its development, so it is necessary to have an idea embodied in a tangible form, on which to work.
Architectural rendering allows us to get a mental idea of how our project will look like and work on it without wasting resources.
The graphic representation of the project captured in the render, will serve as a guide throughout the execution process.
What is architectural rendering used for?
Rendering in architecture helps the architect to materialize and share the idea he has in his head with all those interested in it.
Rendering explains in a graphic way concepts that are impossible to define with words. Therefore, it is useful in both informational directions: to be understood and to be understood.
In the end, a render is a sketch or outline, a base on which to work, which serves to:
Expose a great idea and make it tangible in some way.
Understand complex architectural projects
Have a roadmap to work on
Sell ideas, styles and projects: Persuade your target audience
Types of architectural renderings
There are different types of renderings depending on the representation needs of each specific project:
Conceptual rendering
Static renderings: 2D and 3D images
360º renderings
Virtual tours
3D models
Conceptual Rendering
The conceptual render is a sketch of the main characteristics of the project in which you can appreciate the idea and the general concept of the project, as well as its location within the environment. We could say that the conceptual render is the essence of the creative process.
Static Renders
They are usually presented in the form of drawings or images in 2D or 3D. Static renders are made using manual or digital techniques and offer a representation very close to reality. They show what the final result will look like and how it will fit into the environment.
360º Renders
They offer a 360º view of the project that allows observing the result from a more realistic perspective. The observer can immerse himself in the environment to see the project from the inside. It is done using digital techniques that allow to recreate spaces in a hyper-realistic way.
Virtual tours
In addition to seeing a project, virtual tours allow you to live it. Thanks to digital techniques, we can create complete experiences in which the interested public can go through different rooms, buildings, complete houses…
A virtual tour is a realistic visit to a project that has not yet materialized.
3D Models
3D models are digital models made with computer programs that allow the creation of three-dimensional models without the need to invest in material resources to make them tangible.
Architectural rendering techniques
As we have already seen, rendering is the graphic representation of an idea. That is why there are so many different rendering techniques and styles, because each professional has his own and works on it.
An architect must choose a form of rendering that allows him to convey his style, highlight his strengths and reach his target audience.
For an architectural rendering today, there are a multitude of options, but we can classify them in:
Architectural rendering techniques by hand
Digital rendering techniques using software and apps.
Manual rendering techniques
An architect knows how to draw what he wants to represent, because he has the ability to detect what are its essential parts. Whether it is an idea in his head or what he has in front of him, the architect manages to reduce it to its minimum expression and show it to us.
Drawing has been until a few years ago the essential rendering technique for architects, interior designers and other creators.
Manual techniques (based on drawing), despite having been superseded in most cases by digital techniques, are still ideal for the creation of conceptual renderings.
Conceptual renderings do not go so deep into the project and do not require great technical definition, so they work well by hand. In the end, the aim is to convey an idea or concept in a beautiful way and for this the charm of a good drawing is the best weapon.
Among the different drawing techniques for rendering, one of the most popular is watercolor.
Architectural watercolor rendering
Watercolor allows to create volumes in a simple way, bringing the flat drawing closer to the reality we perceive (3 dimensions). This happens because this type of painting allows the implementation of tones and light effects. For example, if I want to add a shadow area, I increase the paint load in that area or superimpose dark tones. On the other hand, if I want the same tone to have light, I make light, very watery strokes.
In addition, this watercolor technique has a special charm, which turns some renders into true works of art.
Such is the charm of hand rendering techniques, that some digital programs offer free hand finishes (simulating hand drawing) or facilities for mixed media (part hand drawing and part digital).
Watercolor is still a technique widely used today, both by hand and in its digital version applied during the post-production process to digital renders.
Digital architectural rendering techniques
Most of the architectural renderings that are done today are done through digital techniques. Although in some cases, these digital techniques try to emulate the more romantic characteristics of hand drawing, the truth is that at a technical level there is no comparison.
Digital rendering has allowed a reliable representation of the projects thanks to the opportunities that technology offers us.
The programs and apps that exist in the market make the representation of projects more and more agile and adjusted to reality. Visualizing a building in its real environment, knowing the natural lighting of a room, and modeling entire homes are some of the actions that we can perform with just a computer and a good program.
In fact, architectural renderings have advanced so much that sometimes it is difficult to distinguish a digital image from a real one, as in the case of digital hyperrealism.
Architectural rendering allows us to materialize projects and ideas without the need to make them tangible.
What's the difference between modeling and rendering?
Rendering programs calculate for us the light and its incidence on the different objects. In this way, we can create the spaces and simply apply these calculations to the objects and scenes we need.
This digital tracking of the incidence of light carried out by a virtual camera and the arrangement of pixels is called Raytracing.
Modeling, however, is the process of construction or digital creation of objects and spaces, to which we then apply the rendering.
Best Architectural Rendering Software
For the rendering process two types of programs are needed:
Rendering engines
Modeling programs
Modeling programs
These are used to model and shape objects, as the name suggests. By means of polygons all the geometry and main shapes of the project are created.
Some of the most used programs for 3D modeling are:
Autodesk 3ds Max
Maya
Blender
SketchUp
Mode
Cinema 4D
Rendering engines
Once we have created the objects, the rendering engines calculate the bounces or incidence of light on the objects. In this way, we can appreciate differential characteristics in color, texture, roughness, etc.
Some of the main rendering engines in architecture are:
Vray
Octane
Corona
Renderman
Fstorm
Redshift
Arnold
Render styles in architecture
Mad Max
Whodunit
Katherine Heigl
David
Oneiric
Theodore
Gondry
If with hand rendering each architect had his personal style, now that digital techniques have provided us with tools that streamline the work, creativity has permeated the process.
Digital rendering has allowed professionals to get into the creative process and explore different options to represent in an attractive way what they have in their head.
Some styles of digital architectural rendering have become popular among professionals. These styles stand out for applying special features to the rendering of the project, so that the result is always stunning:
Mad Max: The ideal for projects where the focus is on lighting. This style consists of highlighting the project by means of lights, practically annulling the surroundings completely, with darkness. A game of lights and shadows that makes the buildings stand out to the maximum.
2. Whodunit: Perfect for conceptual or minimalist styles. Its atmospheres are melancholic, dramatic, with cloudy skies? This sober and elegant style is perfect to represent exclusive buildings and to make them look great with white or glass facades.
3. Katherine Heigl: With the name of an actress, this style represents the everyday. It is characterized by perfectly adapting the designs to the environment and giving importance to landscapes. The Katherine plays with the emotions of the public, showing people performing activities. It is perfect for showing shopping malls, restaurants and stores in general.
4. David: The perfect style for detail. The David focuses on showing the technical quality in the details but it is also perfect to represent gardens, facades, patios and parks. It generates a sense of peace, vitality and serenity, mainly due to the presence of vegetal elements.
5. Oneiric: Ideal for futuristic or avant-garde projects. The representation of these projects is abstract, it does not seek detail but sensations. Halfway between realism and surrealism, the projects appear on the scene guaranteeing their usefulness, but without having to worry about reflecting how each detail is.
6. Theodore: Comfort, habitability and cozy spaces have their perfect ally in this style. The Theodore manages to transmit warmth, thanks to large spaces of natural light. It is ideal for interiors and also for offices, institutions and projects with great natural light.
7. Gondry: The most successful mixed media style owes its name to the filmmaker Michel Gondry. Inspired by him, it includes elements of photography, hand drawing, 3D modeling and other artistic elements. It is ideal for art-oriented projects and for professionals who want to reflect their personality in the project.
The #render culture
Rendering has become a cultural phenomenon in itself. Thanks to the perfect showcase that is Instagram, architectural renderings have regained their rightful place.
Again, architectural rendering is quite an art that many are dedicated to cultivating.
Those who thought that digital rendering would never have the charm of manual renderings were clearly wrong. If before we talked about how some architectural renderings in watercolor were true works of art, now we have to do the same with digital renderings.
The digital rendering in architecture (or the one elaborated using mixed techniques), has gone from being just a tool to represent projects, to being a work of art that also continues to be useful.
The creativity in the designs, the improvement of the technique and the hyper-realistic approaches, have managed to capture the attention of many professionals and encourage specialization in this field.
The perfect example are the stunning creations of 3dq studio that have served us as the cover for this article. They are true works of art, don't you think so?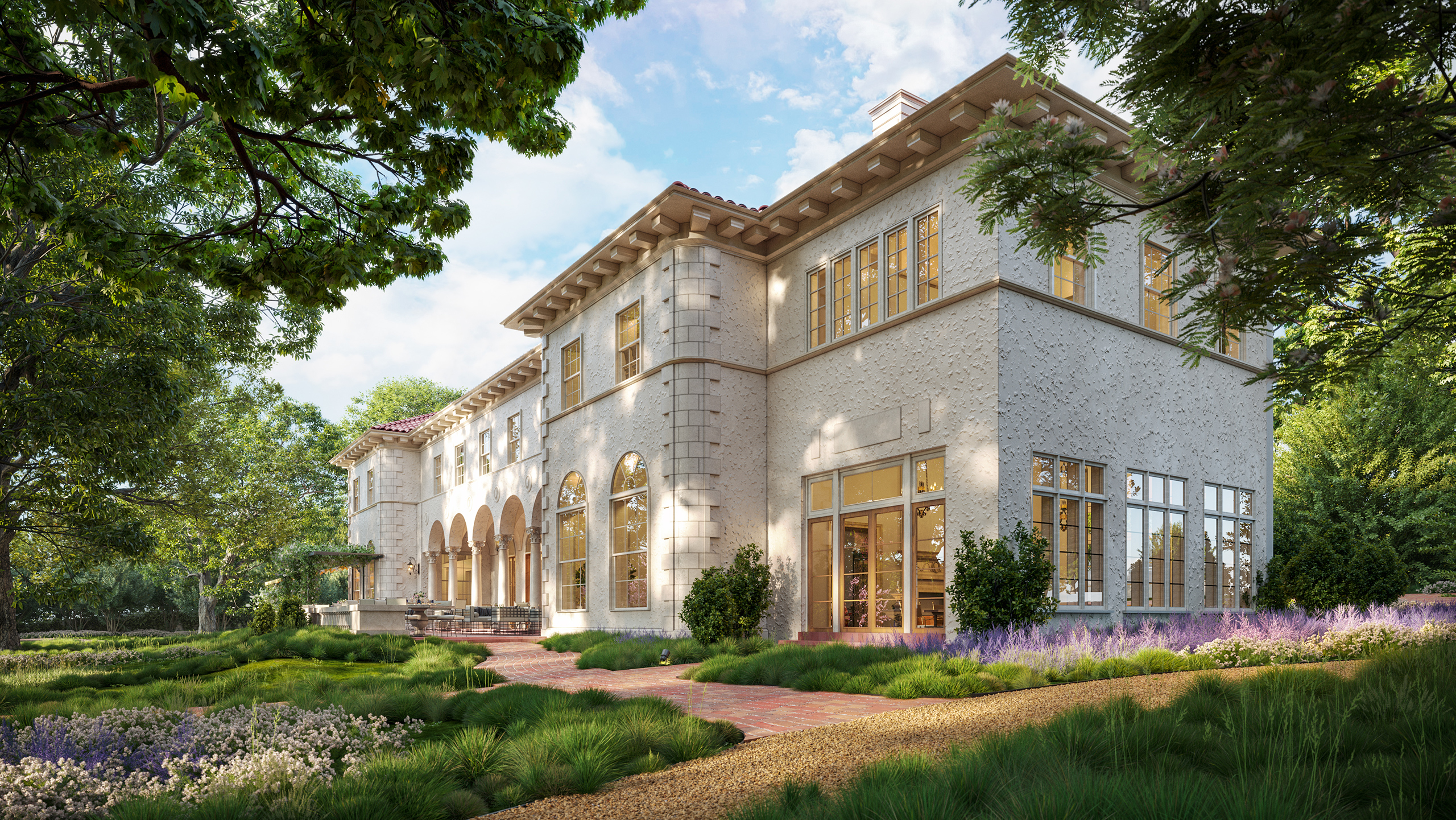 Architects and designers specializing in rendering are reclaiming their place as artists and we are enjoying the process.
If you also want to keep up to date with what's new in the architectural sector follow @_archidesignhome_ and keep track of the best!.